Following the Sixth Ministerial Conference of the World Health Organization (WHO), entitled "Environment and Health", which took place in Ostrava on 13 - 15 June 2017, The Health Week was held in Ostrava on June 11-18, 2017. The Health Week was coordinated by the City of Ostrava in cooperation with the Moravian-Silesian Region and various institutions in the Moravian-Silesian Region, including the Regional Public Health Authority of the Moravian-Silesian Region ("RPHA"). It was a free of charge accompanying educational and entertainment program for the general public on health and the environment, and in the form of open doors days, workshops, green zones, health tests, debates, lectures or sports events.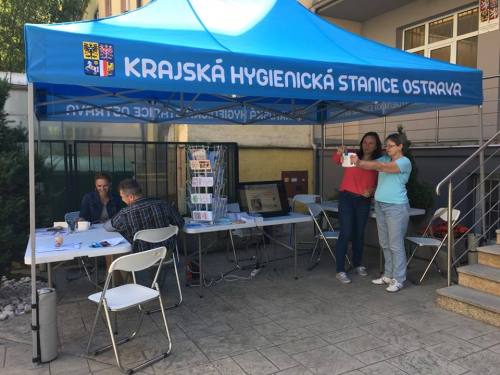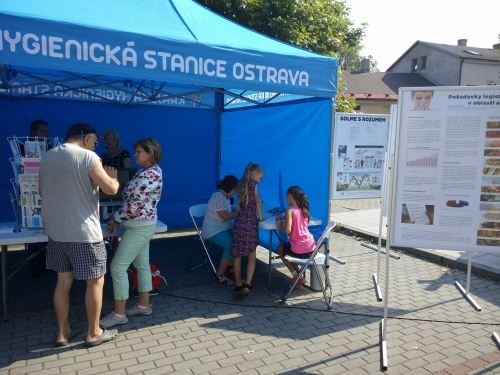 The RPHA also participated in The Health Week on June, 15th 2017 from 8:00 am to 3:00 pm through the open door day in the headquarters in Ostrava as well as in the regional offices in Bruntál, Frýdek-Místek, Karviná, Nový Jičín and Opava. The general public could address their health and environmental questions directly to the RPHA experts. There was also a tent in front of the main entrance to the RPHA building with interactive educational materials, information brochures, medical materials, crosswords for children and adults, etc. There was also the possibility of several kinds of expert examinations for the public, such as measuring blood pressure, measuring body fat percentage and calculating BMI including subsequent health recommendations. 33 people (22 women, 11 men) measured their blood pressure, 38 people (27 women, 11 men) BMI + body fat percentage. We can see a higher interest among women from the given data in the mentioned health problems.
There were also materials available from the following areas: vaccination issues (regular, abroad, children), measles, ticks, occupational diseases, working conditions risk assessment, principles of good nutrition, food dangers, environmental noise issues, hazardous goods, drinking and bathing water quality, classrooms air quality, summer camps for children, diet assessment in kindergartens and primary schools, and many more.